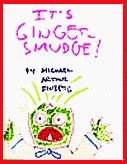 Watch this site
for buying the book
It's Ginger Smudge!
« Click book cover to meet Ginger Smudge!
Ginger Smudge is the little green guy you see in the pictures on this web site. He is the creation of Michael Arthur Finberg, with artistic assistance from Heidi A. Green.
Ginger Smudge expresses abstract concepts with fun images and descriptions that appeal to children (adults like him too). Although he is strictly non-denominational, his philosopy is based on Tibetan Buddhist ideas about mind, consciousness, and the nature of existence. Kids from all over the world have been asked what they think of Ginger Smudge, and they all recommend him most highly.
In his first book, we meet Ginger Smudge in his bedroom, just as he is about to go to sleep. He tells us about the friendly and informative "dream things" who play with him, talk with him, and help him figure things out as he sleeps. Ginger Smudge's games and talks with his dream thing friends leave him feeling good about himself, the world, and the "big thing" who oversees it all. No nightmares for Ginger Smudge!