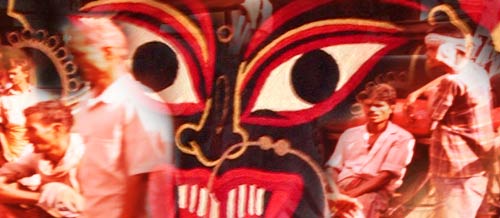 Sutter Street was a noise trap. The Indians had to play their music FULL BLAST at ALL HOURS. It was useless talking to these people. The Indian mind tripped out on sound. It was the ONLY ESCAPE. I took a train to Bahirkhanda, a tiny hamlet lost in the boonies, an hour north from Howrah. Once there, I took a bicycle rickshaw to Horispor. This was KALI'S home off the beaten path. Here one could find the Dakatia temple. Robbers had sacrificed their human victims to KALI on this spot of ground. It was chilling to be home again. A KALI puja was in progress. The place and time felt sublime. A priest was conducting an unknown ritual and I felt happy and very close to him. Women surrounded me and kneeled on the floor. Who was this strange foreigner? Drums were banging a rhythm of snakes.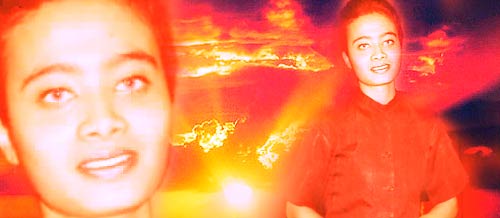 A beautiful young virgin wrapped up in a colorful rainbow sari blew a conch shell. She resisted all my attempts to snap her soul. She was barefoot and moody. I fell in love with her and watched her escape with the modesty and quickness of a wild antelope. It all felt so familiar. There was release here. A new subtle alignment was taking place. The white-haired priest invited me to lunch. He spoke no English, but I felt happy and content. Here was my new father and here was his long lost son. I WAS FREE. I returned to Calcutta's teeming masses and unconditional misery. It was a constantly new experience like none I had ever had before. This density produced saints. Their bliss was spreading throughout the big world. It was an unforgettable experience. I was being blessed even as my physical and mental health was going. Calcutta was crushing me, fucking me, licking me, and finally releasing me. I took one last bus to Howrah bridge. I wanted to stand in the middle of the vortex. To feel KALI'S hot humid breath blowing inside my lungs.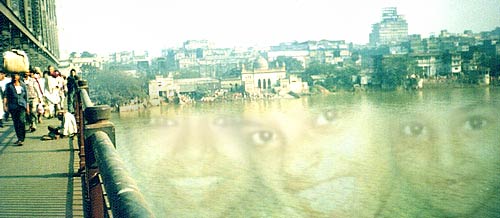 The Hooghly slept in the mist. The dirty sweaty masses of humanity surged forward like an angry tidal wave. I was slowly dying. It was time to split before it was too late. KALI'S witch's brew was killing me. On the bus back to Nihar's neighborhood, I almost lost consciousness. The sweat of the sardined passengers generated a steam-bath. KALI was screaming She was black and she was white. Her ferocious eyes glared at me. "Are you all right?" asked a hidden voice. I turned around and KALI gave me one more surprise. It was in the form of a young psychiatrist. He invited me to tea. "Oh, I can't stand this pollution," I moaned. "We Indians don't have time to worry about things like pollution. We're just struggling to get by, you know," my new friend said. He was handsome; he had dark skin, and a mischievous smile. "What do you tell your patients?" I asked. "Oh, to fall back on their families, it's the only advice I can offer them. I'm doing time in a government hospital. When I finish my studies, I'll see what to do next. May we exchange addresses?" My new friend felt sincere. I scribbled a few words on a crumpled piece of paper.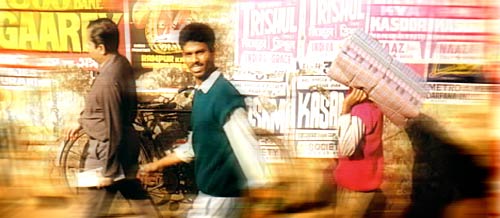 I hurried back to Nihar and said good-bye to him and his family. I was anxious to leave. The thought of staying in KALI'S mouth even one more hour was intolerable. The taxi ride to Howrah was a nightmare. The screech and howl of rush-hour traffic felt like pipe-organs going to war. The cabby stopped to pick up some passengers during a lull in this cosmic concert. I was sick and I was sweating furiously. Every inch closer to Howrah made me cry. The violent voyage over the rapids was nearing its end. We were finally on Howrah bridge! We heaved and we jerked. Screaming drivers with unlimited energy hunched over their steering wheels and searched for an opening. ANY OPENING out of the cauldron jam.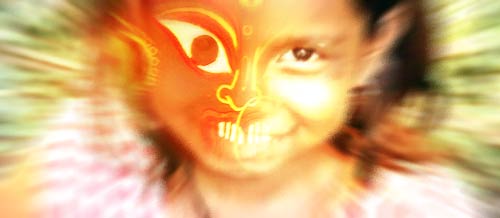 KALI was laughing. She had started it all, and now she didn't want it to end! I found my train. It was ready to leave without me. I collapsed on a seat. My strength was gone. I looked at my wrist. My watch was gone. KALI had taken one last bite.
---
All contents of this site © Finberg Books 2000-2004 by Michael Arthur Finberg