CALCUTTA
BLAH, BLAH, BLAH.... it was the new year and I had diarrhea. The Indians were turning on the music full blast. I was taking the loss of my Tibetan Family very hard. I was stuck with Rosie and Nanina, a French student of Bero's and a German dharma groupie. "It's getting worse and worse, Michael," lamented Rosie. "Ten years ago there was nothing here. Now the Indians are destroying this place," she sighed. But Rosie got me to a doctor. I was saved in the nick of time. Nanina was also sick and spent most of her time lying nude in her room. She asked me if I wanted to fuck her. I said no. But it was Bero's appearance during his difficult time that inspired me. He was an ox of a man, beefy and huge. My head would swell and shoot sparks whenever he passed me. I followed him to the stupa and sat with him inside the giant monolith's guts; we faced a huge glowing Buddha figure. It seemed to sit in suspended animation.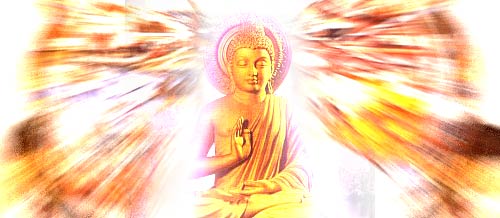 All Buddhist statues pierced you with their weird trance. I began to feel light and free. I heard the Buddha speak: CHANGE YOUR LIFESTYLE. My rib-cage was smarting. I could feel Summer's subtle body. It was denser than mine. She had a lot of witchcraft behind her. "Don't get lost in a dream world with her," the Buddha warned. "Balance your energies CORRECTLY and CONSISTENTLY, RELEASE MORE!" I could hear the New Year crowds heaving and barging outside. It sounded like empty bottles rolling and clanking away. But in a strange muffled sort of way. I gazed ruefully at the floor. Memories of Bero's frescoes flooded my mind. I saw strange half-clad figures; they tied knots in their heads and had deep nasty stares; these were the wrathful Maha-siddahs, the crazy adepts Jim had so admired. I started to cry. I was disgusted with Jim and at the same time missed him terribly. Jim's weird legacy still haunted me. Summer was on my mind, too. Was she also a new sacrificial victim? Was she also a victim or just another perpetrator of the black arts? Did she abuse her powers and skid off into an illness spiral? My head began to tingle. Bero was getting up. A strange humming entered my ears. Bero was blessing me, I could feel it. Now was the time to plunge into the unknown. I took a bus to Gaya, a miserable and ugly town, dark, intense, menacing. A medical student who had befriended me at the stupa showed me off to his roomies. These young Indians were obsessed with the dazzling mammon of the west. My Olympus camera and worn-out Walkman were minutely inspected, and I was hosted to a dinner prepared on the premises and served steaming hot. My hosts wanted visas for the promised land. I was noncommittal.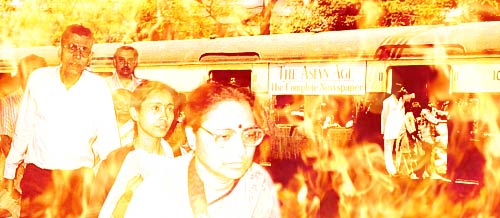 I was on my way to Calcutta. My train arrived on time in Gaya. I was in desperate straits. I was running out of money in a foreign land at the very start of a brand new year. My hosts were from Uttar Pradesh and were looking for a hustle. They guided me to my cabin and left me in a Bengali world. The screech of the train pulled me back from my self-imposed trance. I was frightened and now had to face KALI. The black Madonna of India, licking the world's sins with her lethal tongue, making my movements absolutely mad. No words, no words .... inside KALI'S mouth. I began hearing her haunting refrain .... CHAI, CHAI, CHAI, KOFFEE, KOFFEE .... CHAI, CHAI, CHAI, KOFFEE, KOFFEE. I looked outside my window and saw a wall of thick haze and tropical vegetation. I could see industrial infrastructure everywhere. If Delhi was like Beijing, than Calcutta was like Shanghai. The train crawled into Howrah station.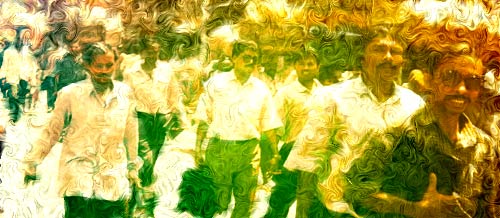 Howrah was a monster. All kinds of noise and squalor, videos and beggars, huge lines and crowds, touts too. I was in shock. I could not afford a taxi and didn't know which bus to take, so I walked across Howrah bridge. It was mesmerizing, zillions of people and moving objects swarmed over the bridge in both directions. The smog was astonishing, like a vision from hell. The Hooghly river was barely visible. Calcutta was madness.
I was inside KALI's belly and a monster was now shaking up and down, first sideways, quick walking, sitting, then crossing its legs, then uncrossing them, then getting up and rubbing its hands, now rubbing its fly, hitching its pants, then slitting its eyes to see everything, then grabbing me by the ribs, and screaming, screaming. This was KALI'S song. There was no money waiting for me at the bank. I had given my stepmother the wrong wiring instructions. I had to contact her and start from scratch. Money was running out and I was in a hot spot. I found lodgings at a Theravadan temple, just in time. I plunged back into the maelstrom and sent two telegrams.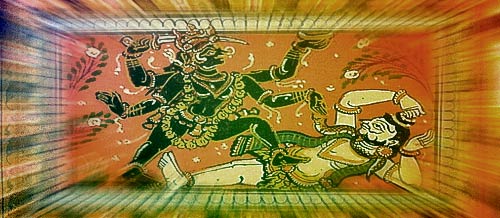 Then I went to visit KALI for she was the queen of Calcutta. Her face was everywhere. I found relief from the heat and noise in the unfinished subway system and zoomed down to Kaligut. Here KALI'S blood lust was satisfied. Priest touts showed me the sacrifice altar where goats were killed every morning. I poured water and flowers over a shiva lingam, a kind of stone penis, and said prayers for the family. I swished around some incense and got slammed for a donation. There was red paste on my forehead.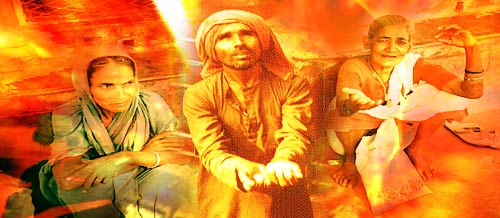 The cry of ravens was everywhere. Beggars roamed in every corner smelling of strange purification. I thought about Brown Eyes. KALI knew how to work with the elements, with blood and water. Here I was exactly one year to the day since my final puja at the Burmese place. I could taste Summer's honeysuckle breath. The world was in turmoil. The hard-liners were gaining ground all over the world. Exotic nickknacks and fast food absorbed my attention as I walked back at night. Men pissed right on the street. Smoke was everywhere. I had survived my first day in Calcutta. KALI was laughing and taunting me, then making love to me, she was now my consort for this nightmare part of my journey. I was really protected.

All contents of this site © Finberg Books 2000-2004 by Michael Arthur Finberg