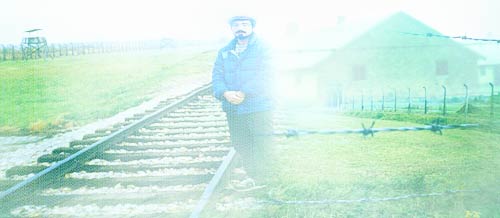 Despite all this, I knew I was standing on sacred ground. This vast killing machine had transformed the landscape and made it holy. This was the epicenter of BLACK STRESS. I did my first daylight puja near some demolished barracks. The Nazis had tried to burn as many of them as possible before fleeing the advancing Russians. The huge camp complex was large and seemed to expand forever in all directions. The day was overcast and the camp seemed almost deserted. Mocking birds sat on the barbed wire fences, chirping away, oblivious to the deeper meaning behind the fiendish light surrounding the camp. The spirits were lisping, writhing, flopping and moaning. They howled and fell back in despair. They hovered everywhere. They hovered near the huge and ruined gas chambers and crematorium. The spirits knew that there had been fire above and gas below. Moloch lived here and he had devoured his children all day. I saw ash pits and shit tanks, confiscation rooms and killing fields. I did another puja near a pond filled with ashes. I could see white crosses and white Magen Davids strewn out all over the place. As I was finishing my puja, the sun came out and broke through the dark overcast skies. The guides had answered. Many spirits were being released. I was tapping light in the darkness.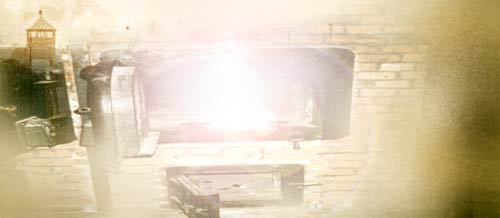 I hitched a ride back to "Little Auschwitz." I prayed to the great death machine. I visited the crematorium and gas chamber. It felt DENSE. This was the epicenter of the epicenter. It was all CONCENTRATED DEATH. One could barely breathe. It was suffocating. I did puja to release from this squeeze. This death-like density seemed to resemble holy density. It was a bit uncooked and unrefined, but it was the raw manure of bliss. All the ingredients were there. All that was needed was a little holy compression. There was a surplus of fear here and a shortage of blessing. It could all be eventually transformed - of this I was certain. I could see signs everywhere of the Jews reclaiming their holy ground. Candles and all kinds of small and large memorials dotted the landscape. MY SORROW IS CONTINUALLY BEFORE ME. This was the big message. I listened to klezmar music on my Walkman. It sounded intense and surreal. I felt like dancing and it didn't feel wrong. I was now comfortable. The night was descending, but the shock was now gone. All the pujas went well. I was completely alone, but felt no fear. It was routine now .... and it felt like bliss. I could hear the heaves of relief from all the sentient realms in this holy and dense spot of Earth. The Guides were answering all my calls for release. Their compassion was unconditional. My panic was gone. I passed the gas chambers and crematorium and felt FULL.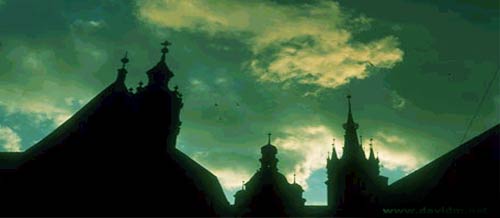 I got back to Krakow late in the evening humming the bars of the Polish anthem in fabulous triumph. I had survived Auschwitz and it was now time to pack up and move on to Vienna. Jerzy came over to say good-bye and told me stories about the Grand Wizard's escapades. I got two Polish guys all excited about a nutty export-import scheme involving strange wire trinkets. A guy called Lech helped me get on the train. Lech had been a philosophy major and understood that it was important to explore the mind that jumps between systems rather than the systems themselves. All systems were products of the mind, so it made sense to start at the source. Darkness was descending on Krakow and the city's numberless buildings were just beginning to sparkle on their lights. I staggered off the tram with Lech and we sniffed and stretched for a moment. It was time to board the vortex train and ride off into the secret night. Lech waved good-bye and turned into a blur as the train picked up speed.
---
All contents of this site © Finberg Books 2000-2004 by Michael Arthur Finberg